Brandon "Scoop B" Robinson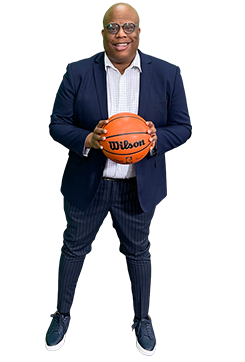 Brandon "Scoop B" Robinson is a National Television Broadcaster and Executive Producer with over two decades of experience in News, Sports and Entertainment.
Growing up in both northern New Jersey and New York City, Brandon began his career working at his family's shoe stores The Athlete's Foot and Men's Walkers in Harlem, New York. Interacting with athletes and celebrities like late jazz musician Dizzy Gillespie and NBA Hall of Famers Hakeem Olajuwon and Dominique Wilkins gave him early practice in interviewing some of sports greatest names. By the tender age of 12, he transitioned this practice to an early start in radio journalism as host of Nets Slammin' Planet, a 1990s AM radio show with the then-New Jersey Nets.
As his career progressed, Brandon worked and appeared on networks such as CBS, NBC, CNN, FOX, NBA TV, ESPN Radio, Bally Sports Network and MSG Networks. He even found himself making an appearance on the popular video game, NBA 2K. Staying true to his journalism roots, he was also a staff writer at The Source Magazine, managing editor and columnist at RESPECT Magazine and a senior columnist at Basketball Society Online.
Robinson's passion for media and sports led him to create his own podcast, "Scoop B Radio." The podcast garnered 10 million streams in 2021 and has featured special guests such as Pete Sampras, Mark Cuban, Shaquille O'Neal, DJ Khaled, Don Lemon and the voice of Siri, amongst others.
Brandon holds a Bachelor of Arts in media communications from Eastern University and a Master of Arts in journalism from Hofstra University.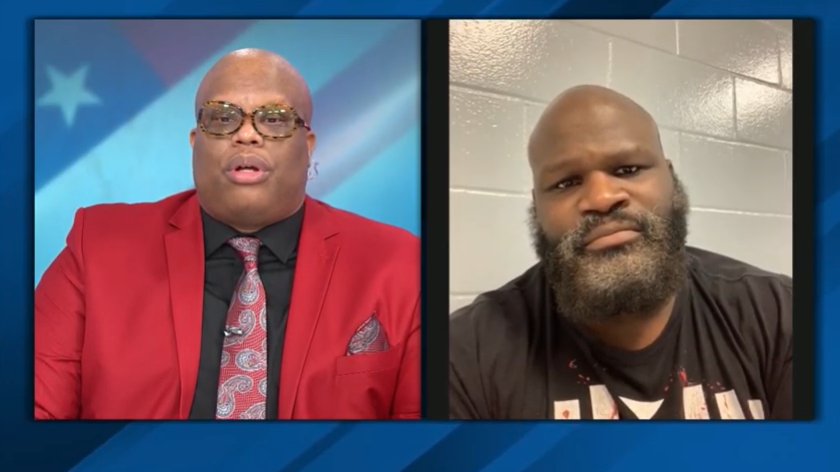 AEW's Mark Henry Weighs In On 2021 Tokyo Olympics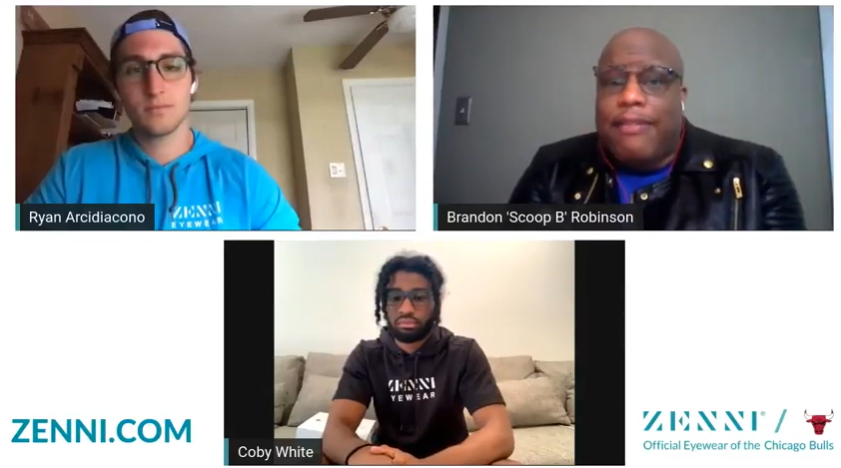 Zach LaVine Makes Crazy Analogy Bulls Teammate Coby White Responds with Ryan Arcidiacono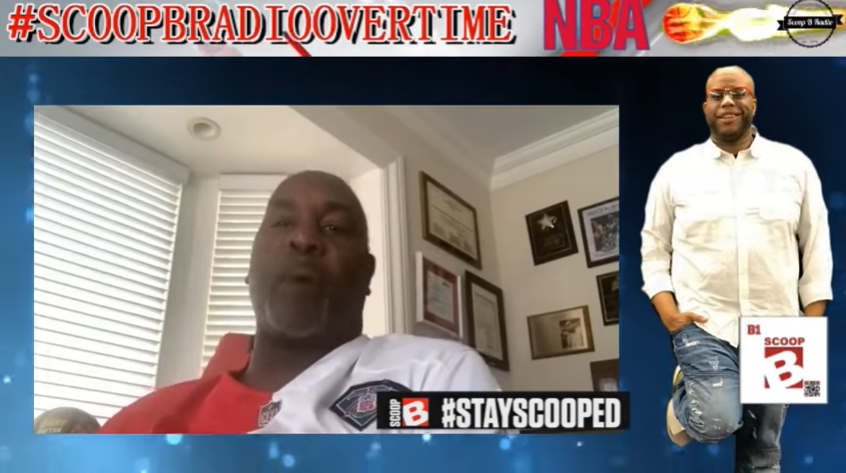 Gary Payton Discuses Kobe Bryant Hall of Fame, NBA Jam Michael Jordan, Sonics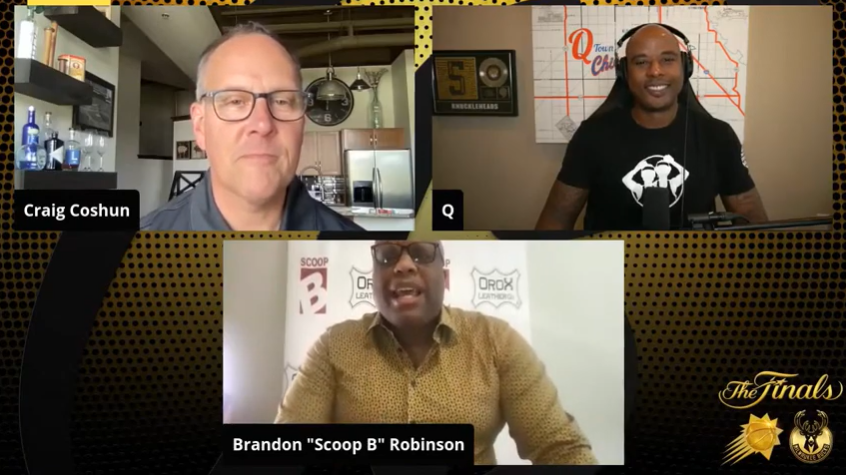 Suns, Bucks NBA Finals Reaction Bally Sports Finals Word – Quentin Richardson, Craig Coshun
TNT's Kenny The Jet Smith Talks March Madness and NBA & Celebrates Birthday
TNT's Kenny The Jet Smith Talks March Madness and NBA & Celebrates Birthday
UFC Lightweight Champ Anthony Pettis Talks #UFC181, Milwaukee Bucks, Packers, Drake & More
Brandon Scoop B Robinson & Fox News' Lt. Steven Rogers Talk Colin Kaepernick
Brandon Robinson Talks to NBA Commissioner Adam Silver About Donald Sterling and LA Clippers
Sports Expert Brandon Robinson Talks Fantasy Sports Scandal On CBS This Morning
Brandon Robinson Discusses Ray Rice's Return to the NFL on NYC's PIX 11 Morning News
Brandon Robinson Talking LeBron James' Return To Cleveland on CTV in Toronto
ESPN's Chris Broussard and The Source Magazine's Brandon Robinson remember Stuart Scott
Source Magazine's Brandon Robinson Talks LeBron James Jr. & Recruiting Athletes On Arise America
BEN Network's Dexter Henry Discusses New York Liberty's Hiring of Isiah Thomas with Brandon Robinson
Brandon Robinson Talks San Antonio Spurs' Hiring Of WNBA's Becky Hammon On Arise TV News
With a retrospective audio journey through the past and present; Brandon "Scoop B" Robinson is a journalist on a mission to deliver dope content covering sports, lifestyle and entertainment.
 
Featured in NBC, CBS, ESPN, Fox News, New York Daily News, Bleacher Report & Complex, Scoop B Radio is an audio podcast produced by Emmanuel 'DJ Manny eL' Garrett and narrated by Brandon "Scoop B" Robinson. 
 
Scoop B Radio garners 5 million streams annually with guests that include Dallas Mavericks owner Mark Cuban, Grammy Award Winners in mega producer DJ Khaled and Vin Rock from legendary hip hop group Naughty by Nature, tennis legend Pete Sampras and NBA Hall of Famers Shaquille O'Neal, Charles Barkley & Isiah Thomas. 
"Brandon is a rarity. In addition to being a talented, energetic journalist with a tremendous work ethic, he's a thinker with a huge heart. He's passionate about what he does and about who he is. He's willing to share his best and be open-minded to other perspectives. He's insightful and conscientious. Brandon Robinson is a future leader and he's going to be a great one. I want him on my team."
-Joe Serio,
motivational Speaker Joe Serio Enterprises
"Brandon was recommended to me by a mutual friend. Feels like I won the lottery! Needed a whole new look for my internet presence and it was as if Brandon could read my mind and blow it away all at the same time with his innovative concept options. Brandon has the patience of a saint, and kicked my butt when I needed it. AND came in under budget! Could NOT recommend him more highly!"
-Gregory Jbara,
Tony Award Winner, CBS Blue Bloods actor
"There's hustle and then there is the hustle of Scoop B. He has 'Trusted the Process' from a very young age, and there are few I would trust more as a journalist."
-Chris Shearn,
Anchor, YES Network
"Brandon makes sure to have the scoop on all the major pop culture events around NYC. If you're reporting at a big event, you can be sure to see him there doing his thing."
-Nick Creegan,
NBC's Law & Order, CW's Catwoman
"Brandon Robinson gives you the inside story of the sports world. He is multi-faceted in his knowledge of all sports. Has a great grasp on its historical aspects and provides great insights and analysis. He is truly the sports person for all seasons!"
-Julian Phillips,
Edward R. Murrow Award winner, Fox & Friends
"As a 30+ year professional wrestler/sports entertainer/media personality, dealing with press is enjoyable when the person interviewing you is relatable. Brandon 'Scoop B' Robinson is that. As a conduit between the audience and the interviewee, he's engaging and you can tell he loves what he does. Scoop B is the man!"
-Jeff Jarrett,
WWE Hall of Famer
"I've had the pleasure of working with Brandon more than a few times throughout my career. Whether it was for household names like Samsung or Verizon, he always brought the same wit and passion to each project we collaborated on. I'm now lucky enough to call him a friend and can't wait for the next project we link up for"
-Nick Weatherhead,
VP, Media Strategy & PR at NYLAM
"I've known Brandon for over 20 years, and he is passionate about his profession now as he was back when I first met him. As an interviewer, he is one of the best. He's engaging and has the ability to relate to the people he is interviewing, which is rare in the sports world."
-Keith Van Horn,
Nets, 76ers, Nets, Mavs NBA Legend
"The hip-hop generation will continue to have an abundance of support for Brandon Robinson. This young man has truly produced the best collection of articles that capture the indelible moments in music culture. Although the faces behind the music are ever- changing, Brandon has always been in the forefront, engaging a global audience and myself. I am so impressed to see Brandon direct a question to the NBA commissioner regarding Donald Sterling. Brandon's award winning talent and innovative thinking will never go unnoticed and I believe he is a young mogul in the making."
-Neef Buck,
Grammy Nominated artist with Jay-Z's Roc-A-Fella Records